Autodisplay Biotech GmbH is a biotechnology company commercializing its proprietary expression platform for the display of heterologous proteins or peptides on the surface of gram negative bacteria. This cell surface display technology provides numerous benefits to biocatalysis, the functionalisation of solid surfaces and screening applications. With its custom-tailored products and services, Autodisplay Biotech is an ideal partner for leading companies in the chemical, pharmaceutical and biotechnology industries.
Looking back onto a successful history
The company was founded in 2008 as a spin-off from the Institute for Pharmaceutical and Medicinal Chemistry at Heinrich-Heine-University Düsseldorf. After its first round of financing in 2010, Autodisplay Biotech moved into Life Science Center Düsseldorf, a highly modern incubator that offers optimal surroundings for the realization and further development of Autodisplay Biotech's ideas. Today, Autodisplay Biotech can look back onto a successful past with numerous research and development projects for partners across various industries.
Building onto first-class academic research
Fundamental research is being conducted at a research group of Prof. Jose at the Institute for Pharmaceutical and Medical Chemistry at University of Münster, approximately 120 km north-east of Düsseldorf. Click here for the full list of reviews and publications on Autodisplay technology.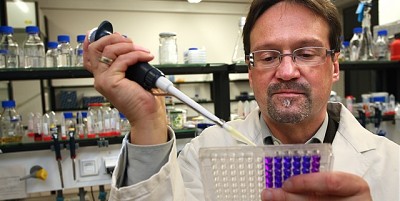 Founded: 2008
Founders: Prof. Joachim José, Dr. Ruth Maas, Dr. Gunter Festel
Employees: 11 (as of November 2013)
Located: Life Science Center, Düsseldorf
Office space 60 m2
Laboratory space: 180 m2